Awareness is the first step in making a difference. The United Nations has provided precise guidelines on how to transform the world by 2030. A universal movement involving countries, organizations, and companies in which everyone can make a difference with their daily actions. Being part of this mission means protecting people, the environment, and the planet, within a horizon of well-being and solidarity.
The company has therefore consciously decided to undertake, without any regulatory constraint, a concrete path to voluntarily align its objectives with this global project of prosperity and cooperation, embracing the 2030 Agenda for Sustainable Development of the UN and takes part in this change to bring about a better future for the planet and the people who inhabit it, leaving no one behind.
Adopting good practices, transforming the company towards a sustainable business model, and contributing to creating social value in favor of continuous growth and innovation: these are the three fundamental dimensions that represent what it means for PERFORMANCE iN LIGHTING not just corporate responsibility, but also the entrepreneurial culture.
With this new Sustainability program, the Company wants to demonstrate that any company, even if not yet required by law to report social, environmental and governance aspects, can be part of the solution to some of today's most pressing challenges, including those of market, with a view to economic, social, and environmental growth and prosperity.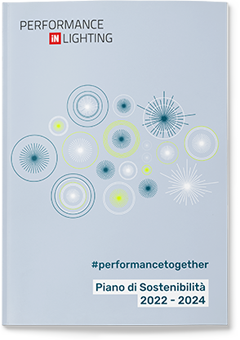 SUSTAINABILITY PLAN
2022-2024